Beacon Wellness Weight Loss Programs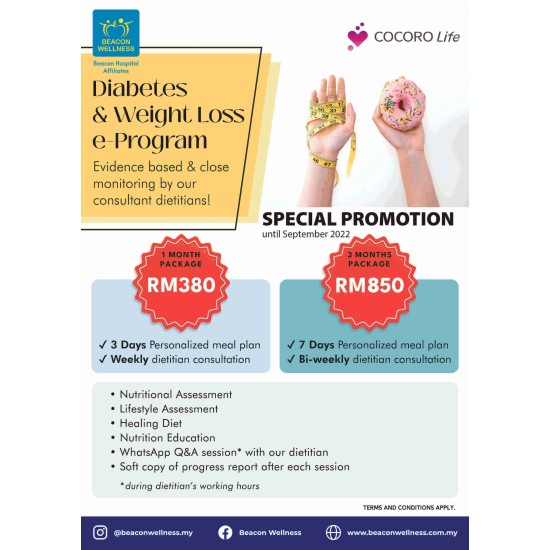 Beacon Wellness Weight Loss Programs
Stock:

In Stock

Model:

Beacon Wellness Weight Loss Programs
Terms and Conditions:
1. This program will be conducted via Zoom/Google Meet. Online video consultation allows consultant dietitians from Beacon Premier Wellness to provide nutrition coaching to you that may otherwise require you to travel long distance.
2. Clients are required to submit signed consent form to Beacon Premier Wellness prior to joining this program. By submitting the consent form, you have given your consent for the data and information collected during coaching sessions.
3. Beacon Premier Wellness has the right to terminate this programme if the consultant dietitian deems that your health condition is not fit to be in the programme and money paid will be fully refunded.
4. Video or voice recording whether in part or in full during coaching sessions and distribution of the recording is strictly prohibited.
5. No duplication of this program and materials is allowed without the knowledge and consent of Beacon Premier Wellness.
6. The coaching session will be conducted between Monday to Friday 8.30am – 5.30pm. Clients are required to inform consultant dietitian at least 3 days earlier if you need to change the appointment date and time.